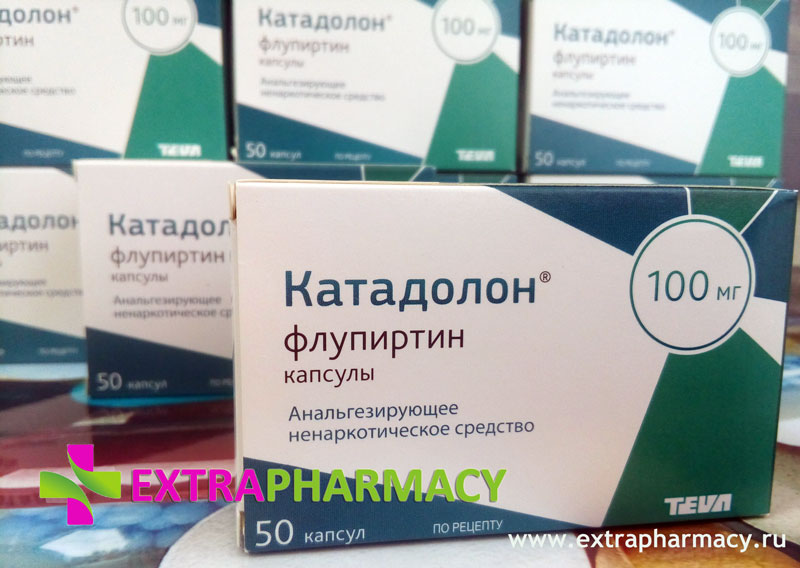 Katadolon
Active substance : Flupirtine - is a non-opioid analgesic of central action. Katadolon does not cause addiction. In addition to analgesic effect Flupirtine has some miorelaksant and neuroprotective effect as well.
INDICATIONS:
Katadolon (Flupirtine) is used as an analgesic when suddenly arisen or constant pain which is caused by muscle spasms, cancer (including metastatic pain), menstrual irregularities (ovulatory pain, premenstrual syndrome, painful periods), trauma, surgical interventions (mainly orthopedic and trauma) .
Flupirtine- selectively stimulates ion channels in cells of the central nervous system and inhibits the activity of receptors that are responsible for recognition and transmission of the pain impulse. Thus there is a marked reduction in the sensitivity of neurons to pain impulses and preventing the formation of chronic pain (or a weakening).
Katadolon has a complex action: marked anesthesia, eliminating muscle spasms, protection of cells from the central nervous system pain impulses and associated biochemical changes. Benefits of the drug is the lack of addiction and withdrawal, while maintaining a strong analgesic effect, as well as a complex action, which significantly expands the spectrum of indications. In addition, Katadolon (unlike most traditional non-narcotic analgesics) has no negative effect on the mucosa of the gastrointestinal tract.
Name in Cyrillic : КАТАДОЛОН
Katadolon® (Flupirtine)
capsules / pills
Brand: Teva
Availability: Out Of Stock
---
Available Options
price shown for :
Related Products