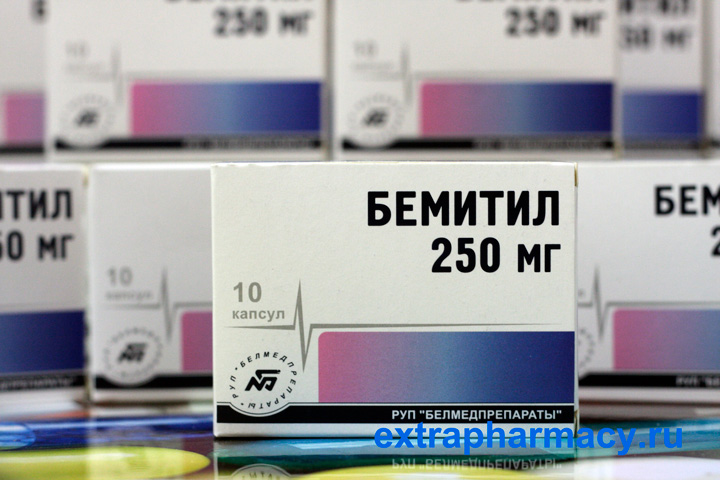 Bemitil® (aka Metaprot)
Bemithil significantly increases overall endurance and body weight. Its action is the stronger the higher the exercise. The increase in performance under the action of Bemitil can reach 200%, especially in conditions of lack of oxygen. The drug increases resistance to high temperatures.
Name in Cyrillic : БЕМИТИЛ
Indications:
Increase and recovery of efficiency, including under extreme conditions (heavy exercise, hypoxia, hyperthermia);
adaptation to the effects of various extreme factors;
asthenic disorders of different nature (in neurasthenia, somatic diseases, after serious infections and intoxications, in pre-and postoperative period after surgery).
in the complex therapy: ported head injury; meningitis; encephalitis; cerebrovascular accidents; cognitive disorders.
Contraindications:
hypersensitivity;
hypoglycemia;
expressed abnormal liver function;
epilepsy;
hypertension;
glaucoma;
ischemic heart disease;
arrhythmias;
lactase deficiency, lactose intolerance, glucose-galactose malabsorption;
pregnancy;
lactation;
children's age.
Active substance: Aethylthiobenzymidazoli hydrobromidum
Side effects:
Discomfort in the stomach and liver; rarely - nausea, vomiting, allergic reaction (facial flushing, rhinitis), headache. In these cases it is necessary to reduce the dose or stop taking.
Overdose:
Symptoms: irritability, night sleep disorders.
Treatment: gastric lavage, the appointment of activated charcoal, symptomatic therapy. It is necessary to reduce the dose or stop taking the drug.
Dosage and administration:
250 mg (1 capsule. 250 mg or 2 caps. 125 mg) 2 times a day. If necessary, the daily dose is increased to 750 mg (500 mg - in the morning and 250 mg - after lunch) patients with body weight more than 80 kg - 1000 mg (500 mg two times a day). The course of treatment - 5 days. Depending on the effect of therapy, spend an average of 2-3 courses (rarely - 1 or 4-6), in order to avoid accumulation of the drug, between courses is recommended to do a two-day break.
To improve performance in extreme conditions take medication for 40-60 min before the forthcoming activity at a dose of 500-750 mg. If you continue readmission produce after 6-8 hours at a dose of 250 mg. The maximum daily dose - 1500 mg, and the next day - 1,000 mg.
!! please note, that product may be labeled in Russian and provided with instructions in Russian.
if you need instructions in English - please add a comment in the order form.

250mg x 10 capsules
Availability: Out Of Stock
---
Available Options
price shown for :